Get Your Perfect Smile in Provo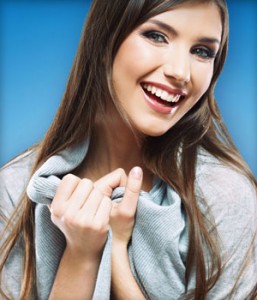 Invisalign clear braces have been a wonderful way for our patients to get straighter teeth without the need for traditional clear braces and have many benefits. Some of the benefits of Invisalign clear braces include:
Time – Invisalign in most situations can help you have the perfect smile you've always wanted faster than traditional braces. Most traditional braces take approximately two years to complete treatment; but with Invisalign, you can have a straighter, more beautiful smile in as little as nine months to a year. Some of our Utah County patients take even less time than nine months to a year because of the technology used by Invisalign clear braces for straightening.
Comfort – Invisalign aligner trays are custom designed for each patient, so they fit and work perfectly. Invisalign trays are designed with your mouth in mind, and are created using modern dental technology so that they are comfortable and effective.
Appearance – Invisalign is a clear braces system, and is not noticeable to most people. The clear aligners used by Invisalign are made of a durable, thin plastic which fits your teeth closely and comfortably, ensuring that those around you don't notice them. Compared to traditional braces, Invisalign is aesthetically pleasing and can help you have your perfect smile without social anxiety.
Convenience – Invisalign is a convenient way to straighten your teeth because the clear aligner trays, unlike traditional braces, are removable. What this can mean for you is that if you ever feel like you want your Invisalign trays out for a social function, it is as simple as taking your aligners out and putting them back in when the occasion is over. Having removable trays also means that you can take care of your teeth like you usually do, helping to ensure that your oral health stays great. It also means that you can continue to eat the foods that you enjoy, without having to worry about food getting stuck in brackets and wires!
We are excited to offer Invisalign to help you get your perfect smile here in Provo! Have any questions about Invisalign or the benefits of this wonderful clear braces system? Call us today if you are in Orem or Utah County!